RELEASE OF DUG UP…DIABOLICAL REINCARNATIONS OF NERVOCHAOS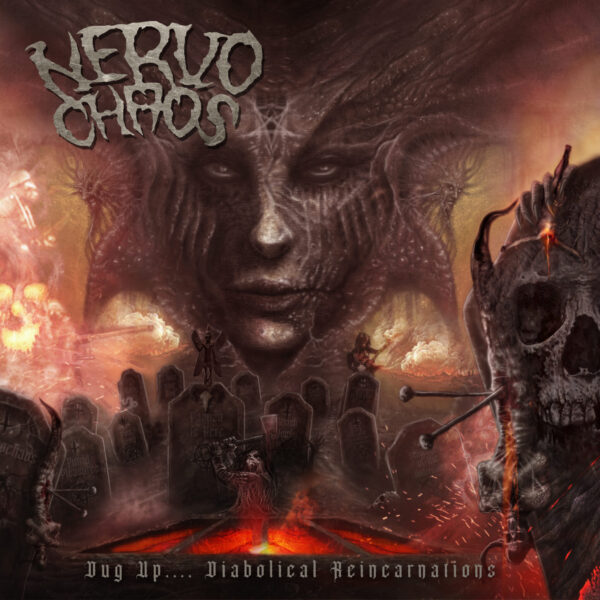 "Dug Up… Diabolical Reincarnations" is a special album with re-record of three songs each from the first four albums, "Pay Back Time" (1998), "Legion of Spirits Infernal" (2002), "Quarrel In Hell" (2006) and "Battalions Of Hate" (2010), and as a bonus, a song from the sixth album, "The Art Of Vengeance" (2014), in celebration of 25 uninterrupted years, completed this year.
"Dug Up… Diabolical Reincarnations" was recorded at Abracadaver Studio, in São Paulo, in May 2021, by Adriano Daga and Adassi Addasi. The production was in charge of the band itself along with Adassi Addasi, and with mixing and mastering by Brendan Duffey Audio. The cover art and all the graphics were by artist EDU Nascimentto, and the photos by Pri Secco Fotografia.
"Dug Up… Diabolical Reincarnations" brings 13 songs revamped with all the fury and weight, hallmarks of NervoChaos, and is already available on the main streaming platforms.
The French label XENOKORP, which has distribution in Europe and the US, released the CD version – in Brazil, the album also won a Slipcase CD version through the labels Xaninho Discos, Tumba Productions, Rock Brigade Magazine & Voice Music Recorder and is now available. In Argentina it comes out on Pacheco Records and in Peru on XARIA MUSIC.
Purchase the national version on Slipcase CD (R$ 30 + shipping)
nervochaos-store.minestore.com.br
The Tracklist for "Dug Up… Diabolical Reincarnations" features the following tracks:
01 – I Hate Your God
02 – Envy
03 – Putrid Pleasures
04 – Pazuzu Is Here
05 – Mighty Justice
06 – Upside Down Crosses
07 – The Urge To Feel Pain
08 – Dark Chaotic Destruction
09 – NerveChaos
10 – Pure Hemp
11 – Scavengers Of The Underworld
12 – Perish Slowly
13 – The Devil's Work
NervoChaos is formed by Brian Stone (vocals), Luiz "Quinho" Parisi (guitar), Woesley Johann (guitar), Pedro Lemes (bass) and Edu Lane (drums)
https://www.nervochaos.net
https://www.tumbaproductions.com.br
https://www.lpmetalpress.com.br
http://www.xenokorp.com
http://www.xaninhodiscos.com.br
http://www.rockbrigade.com.br
http://www.voicemusic.com.br
http://www.ehrlund.se