Setembro Negro Festival: Meet the Cast and all the information of the 15th edition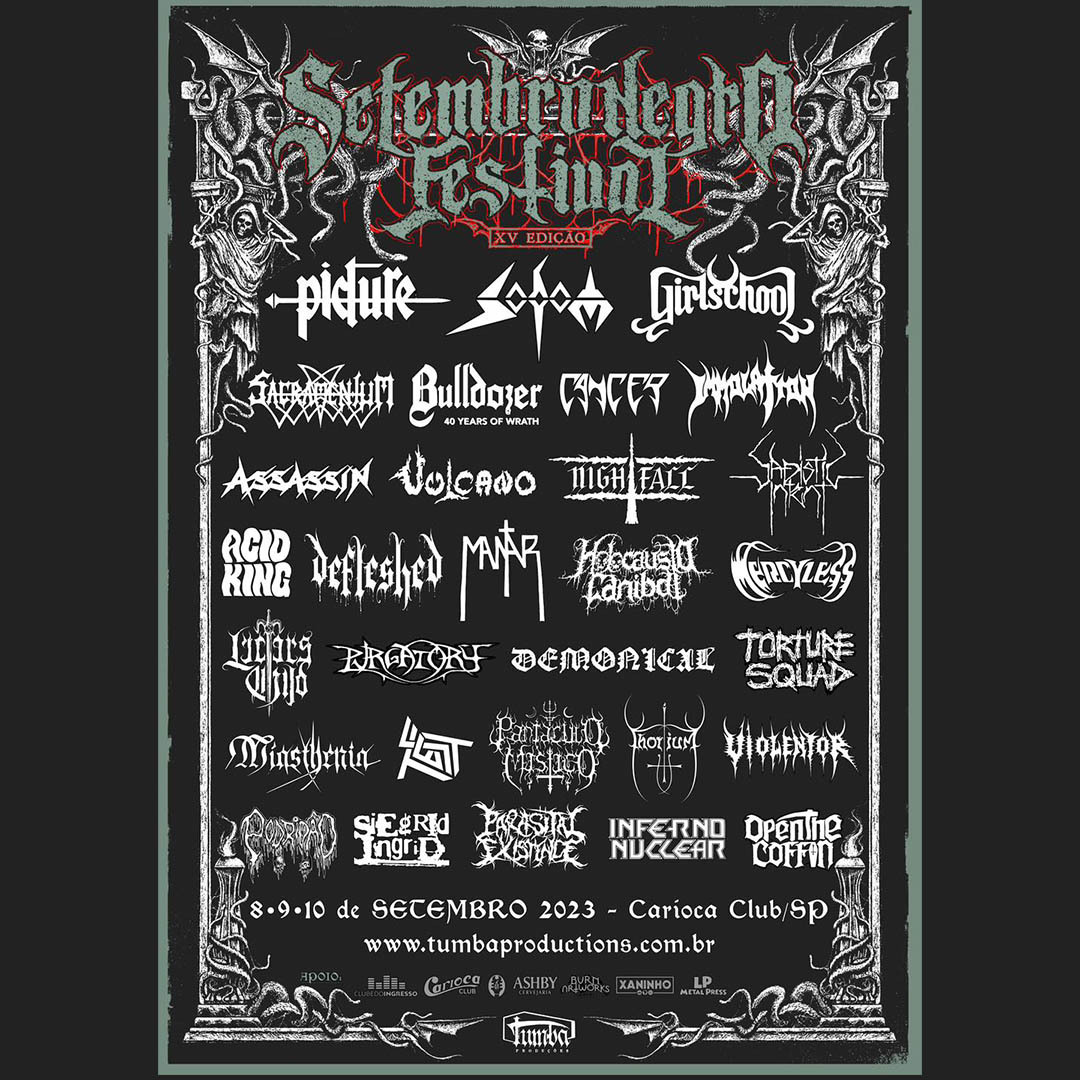 The fifteenth edition of the Black September festival, which takes place on the 8th, 9th and 10th of September (respectively, Friday, Saturday and Sunday) at the Carioca Clube (R. Cardeal Arcoverde, 2899, Pinheiros, São Paulo), has its cast released; Sodom, Picture, Girlschool, Immolation, Assassin, Nightfall, Mercyless, Torture Squad, Rot, Mystical Pentacle, Open The Coffin, Thorium, Violentor, Test, Nuclear Inferno, Miasthenia, Siegrid Ingrid, Purgatory, Defleshed, Sadistic Intent, Sacramentum, Bulldozer , Demonical, Mantar, Acid King, Cancer, Cannibal Holocaust, Vulcan, Parasital Existence and Lucifer's Child.
There are 30 attractions, from styles such as Heavy, Thrash, Death, Black, Crossover and Doom, between international and national bands, divided into three days.
The Black September Festival is organized by Tumba Productions.
SERVICE: XV SEPTEMBER NEGRO FESTIVAL
TIMELINE:
FRI 08.SEP
13:00 – HOUSE OPENING
2:00 pm – 2:30 pm – ROT
2:50 pm – 3:20 pm – PARASITAL EXSITENCE
15:40 – 16:15 – MYSTIC PANTACLE
4:35 pm – 5:15 pm – MERCYLESS
17:35 – 18:15 – TORTURE SQUAD
6:35 pm – 7:15 pm – PURGATORY
19:35 – 20:20 – DEFLESHED
20:40 – 21:25 – NIGHTFALL
21:45 – 22:35 – IMMOLATION
22:55 – 23:55 – PICTURE
SAT 09.SEP
13:00 – HOUSE OPENING
2:00 pm – 2:30 pm – OPEN THE COFFIN
2:50 pm – 3:20 pm – THORIUM
3:40 pm – 4:15 pm – VIOLENT
4:35 pm – 5:15 pm – TEST
17:35 – 18:15 – CANNIBAL HOLOCAUST
18:35 – 19:15 – VULCANO
19:35 – 20:20 – SADISTIC INTENT
20:40 – 21:25 – SACRAMENTUM
21:45 – 22:35 – BULLDOZER
22:55 – 23:55 – SODOM
DOM 10.SET
11:00 – HOUSE OPENING
12:00 – 12:30 – NUCLEAR HELL
12:50 – 13:20 – SIEGRID INGRID
13:40 – 14:15 – MIASTHENIA
14:35 – 15:15 – LUCIFER'S CHILD
3:35 pm – 4:15 pm – DEMONICAL
4:35 pm – 5:15 pm – MANTAR
5:35 pm – 6:20 pm – ACID KING
6:40 pm – 7:25 pm – ASSASSIN
7:45 pm – 8:35 pm – CANCER
20:55 – 21:55 – GIRLSCHOOL
LOCATION: CARIOCA CLUB (R CARDEAL ARCOVERDE, 2899 – PINHEIROS)
TEL. 11 3813-8598 – Credit, debit and cash cards accepted.
TICKETS:
TRACK
1st LOT HALF TRACK – BRL 230
1st BATCH TRACK PROMO + 1kg – BRL 230
1st BATCH ENTIRE TRACK – BRL 460
1st COMBO TRACK BATCH (3 days) HALF/PROMO +1kg – R$ 550
1st BATCH COMBO TRACK (3 days) ENTIRE – BRL 1,100
CABIN
1st BATCH HALF CABIN – BRL 330
1st BATCH PROMO CABIN + 1kg – R$ 330
1st BATCH ENTIRE CABIN – BRL 660
1ST BATCH COMBO CABIN (3 days) HALF/PROMO +1kg – R$790
1st BATCH COMBO CABIN (3 days) ENTIRE – BRL 1,580
TICKETS WITHOUT SERVICE/CONVENIENCE CHARGE ONLY AT THE CARIOCA CLUBE TICKET OFFICE, IN CASH, FROM MONDAY TO FRIDAY FROM 12PM TO 6PM.
ONLINE TICKETS: https://www.clubedoingresso.com/evento/setembronegro
***Entry allowed from 16 years old***
***It is mandatory to present an identity document***
FOREIGNERS – Please contact faleconosco@clubedoingresso.com for a CPF number to complete your order.
FOREIGNERS – contact faleconosco@clubedoingresso.com to obtain a CPF number and complete your purchase.
PROMOTIONAL AND/OR EARLY ADMISSION
When available, this type of ticket can be used by anyone. It is a lot with reduced value through promotion, available for a limited time. Promotional tickets are mandatory donation of 1KG of food or animal feed
HALF-ENTRY TICKET
When available, this type of ticket is intended for students eligible to receive the discount. According to Federal Law 12.933/2013 and the decree that regulates it, 8.537/2015, in force since December 1, 2015. Find out who is entitled to reserve 40% of tickets for half price. As below:
STUDENTS
Since December 1, 2015, new rules and a new document (standardized and issued by UBES, UNES, ANPG and affiliated entities) of student identification (CIE) came into force. Learn more and order yours on the official website. As of March 31, 2016, no other document will be accepted as proof of student benefit. The presentation of this document, within the validity period and with a photo, at the entrance of the event is mandatory.
ELDERLY
Seniors over 60 (sixty) years old are entitled to half price. Just present your identity document.
PEOPLE WITH SPECIAL NEEDS
They have the right to half price, extended to a companion. You must present the benefit card for continued provision of social assistance to people with disabilities or a document issued by the INSS that attests to retirement, in accordance with Complementary Law 142, of May 2013.
WHO ELSE HAS THE RIGHT?
Check each region according to its state and local laws. Other beneficiaries in addition to students, the elderly and people with special needs; of half-price admission in São Paulo, are: Teachers from the state public network and municipal education networks, teaching at kindergarten, primary and secondary levels. State Law 14729/2012. Present functional card or payslip and RG. Students who reside in the city of Sao Paulo and who are enrolled in professional courses (basic and technical), pre-college entrance exams and postgraduate courses. Municipal Law 13.715/2014.
FULL TICKET
When available, this type of ticket can be used by anyone. This is the full price ticket, without any discount.
TICKETS MUST BE EXCHANGED FOR A WRISTLET ON THE DAY OF THE EVENT.
THE WRISTLET ENABLES ENTRANCE AND EXIT OF THE EVENT.
THE BRACELET IS NON-TRANSFERABLE AND MUST NOT BE CUT/TORN/RAPPED OR IT LOSE ITS VALIDITY.
SUPPORT: ASHBY CERVEJARIA | BURN ARTWORKS | INGRESS CLUB | DK CAST | LP METAL PRESS | VOICE MUSIC | XANINHO DISCS
Follow Tumba Productions official channels for news:
http://www.tumbaproductions.com.br
http://www.facebook.com/tumbaproductions
http://www.instagram.com/tumbaprod